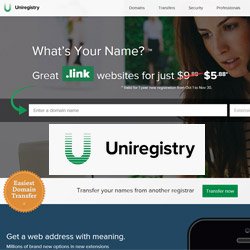 I'm often asked which domain registrar I most use and recommend. The answer, without any shadow of doubt, is Uniregistry.
Uniregistry was built with domain name registrants and portfolio owners in mind.
They have built a state of the art registry services system to combine power and ease of use. Everything you do within Uniregistry's system has been carefully constructed to maximize your ability to acquire, manage, monetize, transfer, and sell your domain names. You have one-step compatibility with the tools you use most and you gain access to domain name marketplaces like DomainNameSales.com.
Uniregistry is the registration services company founded by Frank Schilling
Frank built Uniregistry to bring unique, meaningful online naming solutions to end-users. Launched to the public in 2014, Uniregistry reflects the founder's vision for an intuitive and reliable user domain name experience on top of world-class infrastructure.
World-Class Technical Infrastructure backed by the people that keep the Internet up and running
Uniregistry's infrastructure is designed and maintained by Internet Systems Consortium (ISC), the world's preeminent expert in implementation and operation of the Domain Name System. ISC is one of the few organizations entrusted to provide essential Internet infrastructure, including the Internet's highly-trafficked F-Root server, which is responsible for approximately 25% of the Internet's root traffic.
365 days a year, 7 days a week and 24 hours a day is just the beginning…
All aspects of Uniregistry's hardware and software implementation are designed to be robust, replicated, and recoverable. Uniregistry has applied ISC's experience implementing Anycast technology, DNSSEC and the ISCSecurity and Information Exchange (SIE) to design an all new Registry Service.
Every component of Uniregistry has been built to ensure the continuous health and prosperity of the spaces we intend to administer. The infrastructure they have put in place will provide the utmost in security, reliability, and ease of use to customers and stakeholders.
Do yourself a favor and experience the beautiful interface of Uniregistry right now. I think you'll be as happy as I am with the ease of use and extremely well organized interface.
Go to UNIREGISTRY (opens in new window)