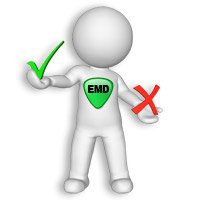 Google spokesperson Matt Cutts announced the latest Google algorithm the other day that is focused on Exact Match Domains.
Panic has set in – at least for those who don't understand what is really taking place.
The algorithm, like all others before it, is Google's attempt to remove "junk" websites from flooding the first pages of Google search results.
It is NOT about demoting Exact Match Domains, rather the poor quality of the websites attached to many of them.
Websites that are built for the purpose of trying to rank using mostly the backbone of an EMD will feel the pain.
Use an EMD correctly, as one small piece of the SEO puzzle, while having all your other ducks in a row (with what Google considers a worthy website), and you'll be ranked as well as, or a little better than others.
An EMD can work for you or against you, depending on how you use it. Outside of SEO, EMDs have several other very strong points that make them attractive.
Click-through rates, more often than not, far exceed CTR of other types of domains.
EMDs are normally easy to understand and remember. This is an important psychological factor in the mind of a consumer and business owner.
EMDs convey an immediate message. It tells you, this site is about this specific topic.
An EMD is instantly recognized and therefore immediately usable to attract new business, just like Dell uses CloudComputing.com to capture traffic and redirect to their main site.
A BRANDABLE domain is a better choice for building your long-term business. However, it takes a lot of promotion and time to get the general population to recognize the brand and what it stands for.
Like all other Google updates, a LOT of website owners are going to get slapped in error at first, and it will take weeks or months for Google to correct and adjust their algorithm. We're going to hear about different experiences from different website owners until the ripples subside.
Google is known for releasing aggressive algorithm updates and then drawing them back in once the dust settles.