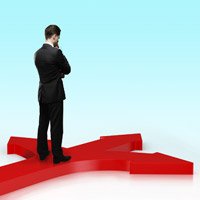 A question that comes up very often is, "If I can't find a great .COM domain for my authority site or main business site, should I consider a .NET or .ORG?"
It's easy to be tempted to opt for a .NET or .ORG because there are usually more choices available. However, there are some critical points to consider before pouring your time, money and effort into building your authority or main website.
If you build up a site using anything but a .com, you're going to lose up to 30% of your traffic to the .COM owner. People will type in .com by habit even if they know your site is .net or .org or .info etc. That's why all the big players own and redirect the .com version of their domain even if they are using the alternate version as their main site (i.e. craigslist.com redirects to the main site, craigslist.org).
In search engine results, everything else being equal, people will click on a .com link more than any other type of domain link.
.COM is perceived as the authority. When people see .net, they often get the impression that you settled for second best. Depending on your target audience, .org will be perceived as a non-business site. When you hit them with a commercial website on a .org, there is a mental disconnect.
Other media advertising. If you ever plan on promoting your website via radio, TV, newspaper, other printed media, it's a huge mistake to use anything but a .com (unless you also own the .com and are redirecting an alternate TLD to the .com). People will quickly and easily forget that the domain you advertised was not a .com. Most will try to visit the .com, regardless.
Resale or equity value: As a professional domainer, I can tell you in no uncertain terms that .COM will hold a much higher value if you ever decide to move on and sell your domain/website.
There are many more reasons, but the bottom line is, if you want to build an authority site, you must at least own the .com. Whether you're receiving dozens, hundred or thousands of visitors a day, the inevitable traffic leak will cost you dearly in lost sales and traffic.
Some may argue that they are doing just fine with a .NET or .ORG, even a .INFO. In my opinion, if you don't own the .COM version of your domain name, it's kind of like living in a poorly insulated house in the Winter. You'll be able to keep warm enough and not notice, but you're losing a decent amount of money on your heating bill.
Personally, I will ALWAYS go with a .com when building a long term website. With enough research, you can CERTAINLY find a great .COM domain name. It's absolutely worth the time to get it right the first time.